25.10.2022 | ZINTOMBIZETHU MATEBENI (University of Fort Hare / Südafrika)
Intersectionality Revisited – An African Perspective
---
Am Dienstag, den 25.10.2022 von 18:00-19:30 Uhr wird Zintombizethu Matebeni in der Unistr. 105/E14 einen öffentlichen Vortrag halten, den das MaJaC zusammen mit Medien | Denken ausrichtet.
Anmeldung bitte bis zum 21. Oktober 2022 an Maximiliane.Brand@rub.de.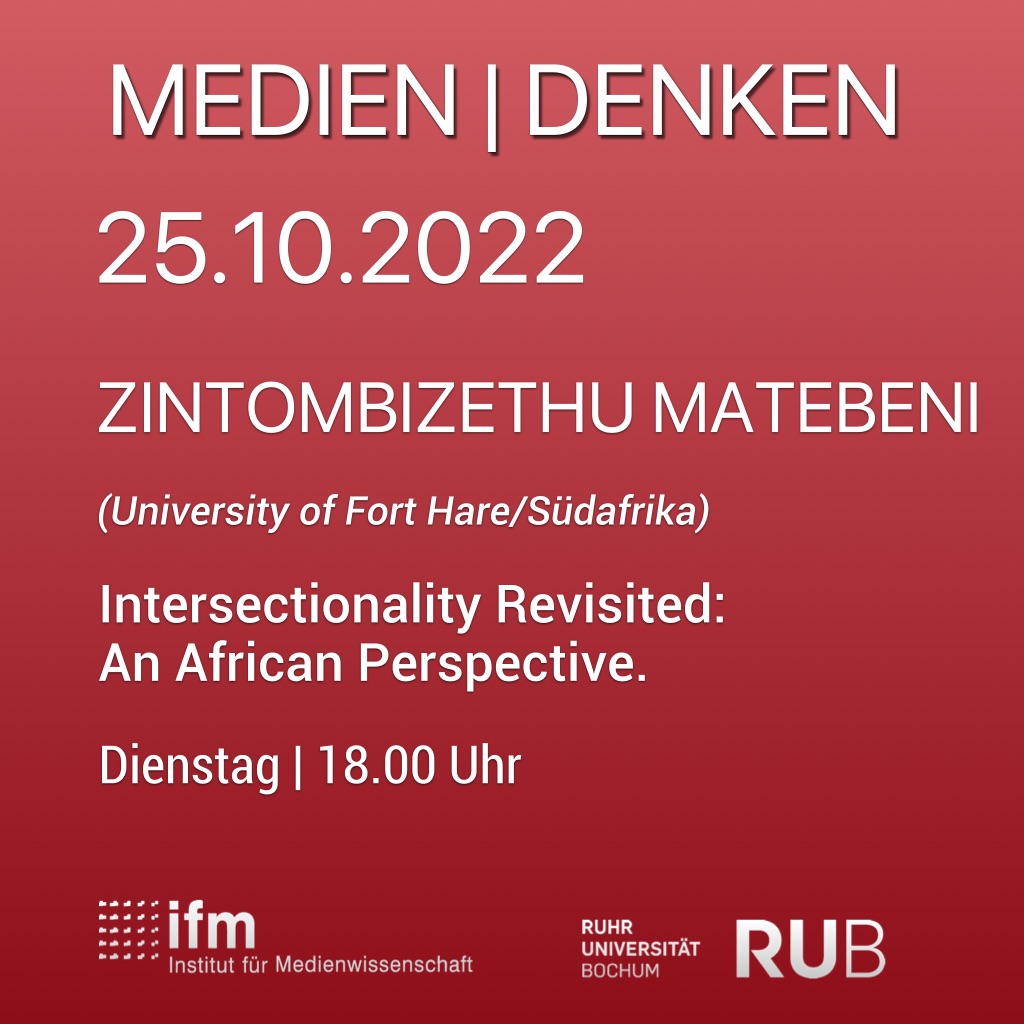 Abstract
At the height of student activism in SA higher education institutions in 2015/16, intersectionality became a buzz word and a rallying call for understanding students' struggles. Very little effort was put towards translating intersectionality into everyday realities and this suggested that the concept, while useful, may have limited reach to communities outside the academy. In this small intervention I explore the possibilities of translating intersectionality so as to engage with the term's relevance beyond the English language while also posing questions for new theoretical and practical shifts for queer activism and scholarly debates.
---
Biographical Notes
Zintombizethu Matebeni is South Africa Research Chair in Sexualities, Genders and Queer Studies at the University of Fort Hare. As a social scientist, writer and film maker whose work focuses on the development of African Queer Studies, zethu works collaboratively with activists, scholars and artists and creates interdisciplinary scholarly work. zethu has been visiting professor at the Women's Gender and Sexualities Studies (WGSS) Department at Yale University (United States of America), Centre for Women and Gender Studies at Nelson Mandela University (South Africa), and has received numerous awards including the African Humanities Program (AHP) Fellowship and the African Studies Association (ASA) by American Council of Learned Societies (ACLS) Presidential Fellowship. zethu has published various key volumes on African sexualities and gender diversity including: Reclaiming African: queer perspectives on sexual and gender identities (2014); Queer in Africa: LGBTQI Identities, Citizenship and Activism (with Surya Munro and Vasu Reddy, 2018); and Beyond the Mountain: queer life in 'Africa's gay capital' (with B Camminga, 2020).
---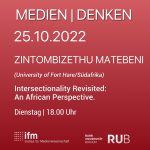 ---