Changing Perceptions and the Public Sphere
---
The advent of electricity in the late 19th and early 20th centuries allowed for new kinds of public spaces. The public dance hall was one such space. Before electrification, lighting an enormous ballroom on a nightly basis for public patronage would have been impractical.
Minneapolis had a vibrant dancehall culture in the early 20th century. Public dance spaces could be found all over the Twin Cities, from downtown Minneapolis to St. Paul, and in neighborhoods in between. In 1909, Charles Strauss of St. Paul began development of the dancehall that would be known as Dreamland.
It was a one story building built of brick with a steel truss roof, according to the Minneapolis Morning Tribune, and located on the corner of 4th Avenue South and 5th Street in Minneapolis, across from the courthouse. Sadly, like many dance halls of the early 20th century, Dreamland no longer exists; it was demolished and it's site is now the modern day government plaza.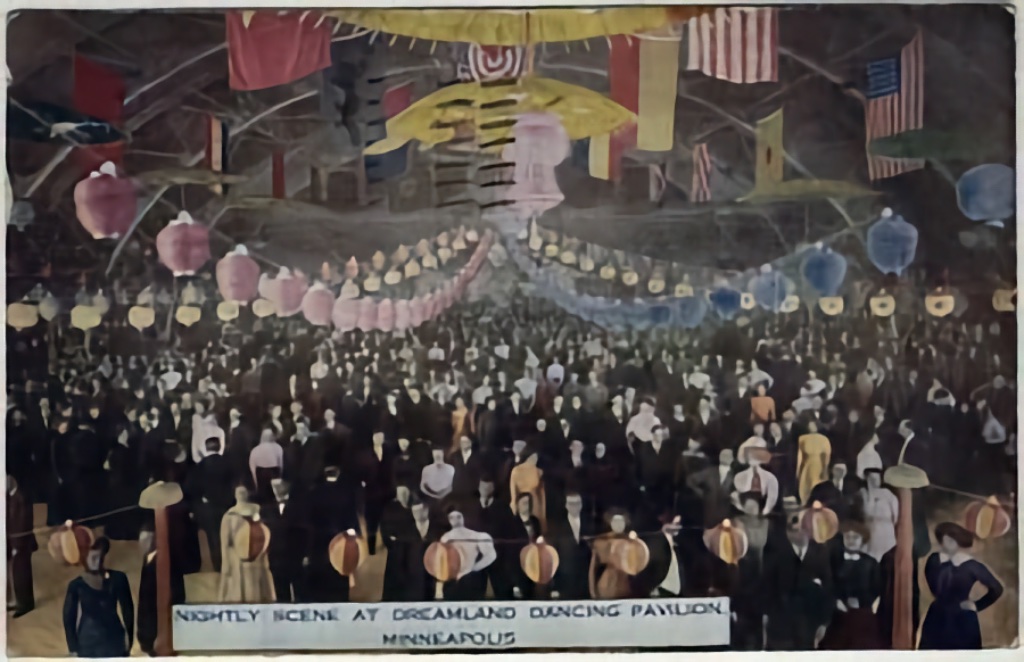 History
Social dancing in the early 20th century was marked by two rebellions against previous generations and social experiences. The first of these came with ragtime and the animal dances; the second came with jazz in the 1920s and dances like the Charleston and lindy hop. The dances of this second wave distanced themselves from ballroom, which was tied to certain expectations of race, class, and tradition. In dances like the Charleston, women and men could dance without partners, and cutting in during a night of dancing became common. These changes allowed women more freedom of choice and independence in this sector of the public sphere. The new dance forms also included more improvisation than ballroom, and were derived from African American and slave cultural forms
Video 1 : 1920s Dance Forms.
http://www.youtube.com/watch?v=FYppP2x-V-I
The music itself descended from this culture, and developed alongside the new dance forms. In the early 1920s, the new music and dance forms became a part of the emerging youth culture and a display of wealth in the urban economy (Image 3 Caption: Musicians and Dancers in the 1920s). Social dance in the 1920s became an expression of modernism in its speed, shock, conscious break from the past, and the evolution of mobilized gaze.
Another feature of the social dance entertainment culture in the 1920s were dance marathons. Large crowds would gather to dance for days in contention for a monetary prize for the couple who lasted the longest. In these competitions, the public could be spectators of the entertainment, participants in it, or both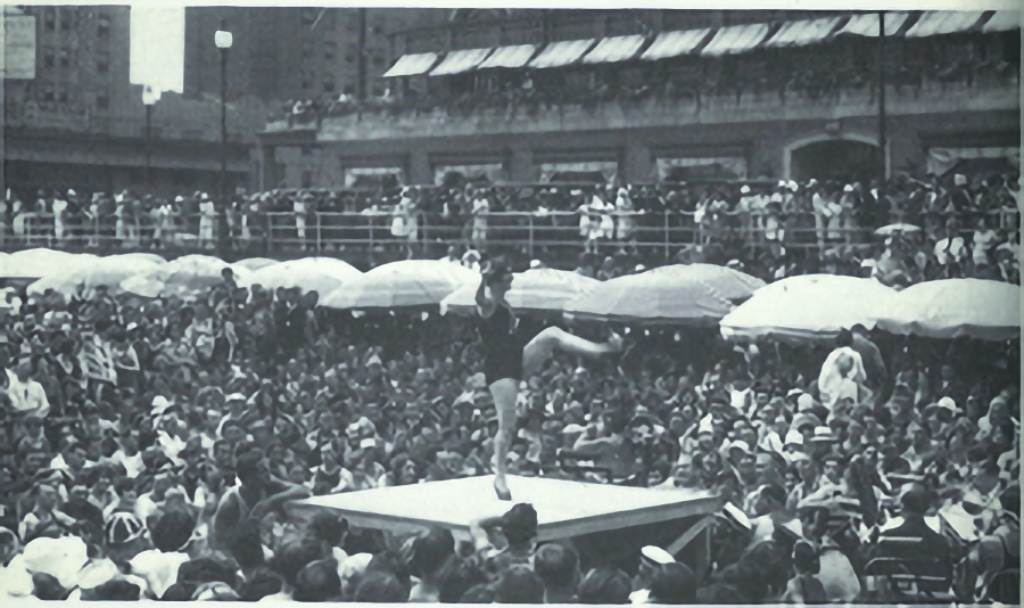 This was a distinctly urban form of entertainment where large crowds of people could gather in a centralized location. In a time of angst over industrialization and mechanization, dance marathons represented the triumph of man over machine for the masses. In these and other social dancing events, dancers experienced reality in a modern way; they lived in a moment, and perceived it through sensual, rather than cognitive, means. However, this modern form of entertainment and participation in the public sphere was not met without contention.
This new type of public sphere brought about new types of legislation to control it, as well as highlighted many long standing issues regarding race, class and gender. New forms of dance were seen as immoral and dangerous by many. They pushed physical boundaries and challenged the ways in which people of the opposite gender interacted with one another. New types of social dance were seen as immodest and impure and very much to be evil. The virtue of girls and women was under assault, according to opponents of the day. This was double standard, as men were rarely critiqued in the same way. Issues of race and class were evident as well. One Minneapolis dance hall was reported to have been closed by the city for failing to keep white and African American patrons separate. With these anxieties about race and morality, it is unsurprising that legislation was enacted to combat what was seen as "dance evil" and the "drugging influence of jazz music". In the early 20th century, Minneapolis passed the Westphal Ordinance which instituted a strict 1am closing time for dance halls and prohibited the sale of liquor where any public dance was to be held. Today, social dance continues to push boundaries. Modern dances like freaking and twerking are seen as morally dangerous and socially inappropriate by many members of society. Dances of the 1920s are still practiced today although they differ in practice and cultural significance.
The Public Sphere and Swing Today
Though swing dancing persists in the Twin Cities today, it fills a very different role in the culture than it did in the 1920s. In the early 20th century, most dance halls were large spaces with table and chairs to sit, eat, drink, and socialize. Dancers paid a flat rate to enter, and an additional fee for every dance. This type of venue encouraged spectatorship and a mixing of those who wanted to participate in the dancing and those who wanted to view it. Today, dance venues in the Twin Cities are multi-purpose dance floors where swing dancing may be held one or two nights a week. There is often seating around the outside of the floor, but food and drinks are rarely offered. Dancers pay one rate at the door, and dance as much or as little as they wish for as long as they want until the dance closes. Swing dancing is no longer an activity to be enjoyed by the masses, but a subculture where individual participants join with the purpose of dancing. While swing dancing is currently associated with nostalgia, a recovery of the past, in the 1920s, it embodied the movements and ideas of the day in a way that engaged the masses in the public sphere.
Colleen Kim & Emily Ewen
---
Sources
Bowman, LeRoy E., and Maria Ward Lambin. "Evidences of Social Relations as Seen in Types of New York City Dance Halls." J. Soc. F. 3 (1924): 286.
Buckman, Peter, and Enid Moore. Let's dance: social, ballroom & folk dancing. Paddington Press, 1978.
Malnig, Julie, ed. Ballroom, Boogie, Shimmy Sham, Shake: A social and popular dance reader. University of Illinois Press, 2009.
"Dance Hall Will Be Built." Minneapolis Morning Tribune. Aug 3, 1909 : 6. ProQuest Historical Newspapers. 9 May 2014.
"Public Dance Hall Conditions Bad, Mrs. Rypins' Report Shows"Minneapolis Morning Tribune Aug 20, 1922 : E10. ProQuest Historical Newspapers. 9 May 2014.
"To Lessen Dance Evil: Believed That Westphal Ordinance Will Have This Effect." Minneapolis Morning Tribune. Jan 29, 1905; 14. ProQuest Historical Newspapers. 9 May 2014.
Images:
Benton, Thomas Hart. City Activities with Dancehall from America Today. 1930. Egg tempera with oil glazing over Permalba on a gesso ground on linen mounted to wood panels with a honeycomb interior. The Metropolitan Museum of Art, New York City.
Fish, Anne Harriet. Dancing in the 1920s. 1927. Vanity Fair.
"Dreamland Dancing Pavilion, Minneapolis." POSTCARDY: The Postcard Explorer. N.p., June 2011. Web. 09 May 2014. <http://postcardy.blogspot.com/2011_06_01_archive.html&gt;.
Video:
"1920s Dance Montage." YouTube.com. n.p. 30 May. 2012.
http://www.youtube.com/watch?v=FYppP2x-V-I