24.01.23 |AKIN ADESOKAN
Aesthetic Mediations – A West African Sampler
---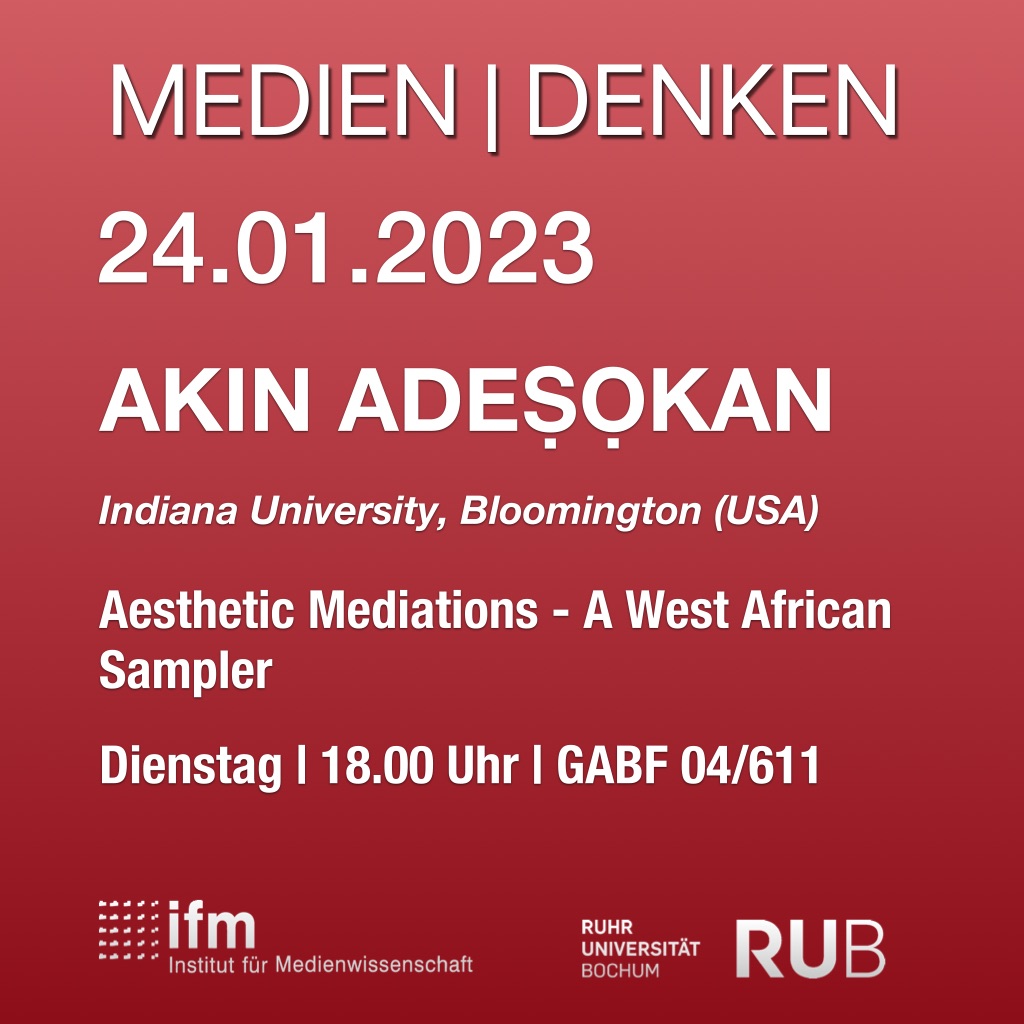 Abstract
This presentation describes the conceptual framework of my new book, Everything Is Sampled (Indiana University Press, 2023). Mainly using the works of writers Ayi Kwei Armah and Wọle Ṣoyinka, the book develops three concepts in addressing the question: What "theories" or modes of reading are available in thinking about the reconfiguration, within digital culture, of new textual productions in the myriad of forms to which we give the name art? Of the three concepts, diachronicity, translocality, and mediation, I focus on the last for the purposes of this presentation. My general aim is to show the nature of artistic composition in West Africa as essentially mediated but discontinuous, and I draw primarily on 'Theater in African Traditional Cultures' (1988), an essay of Wọle Ṣoyinka, to elaborate on this argument.
Rowland Abiọdun, Yoruba Art and Language: Seeking the African in African Art. Cambridge: Cambridge University Press, 2014.
Akin Adeṣọkan, 'A Propos De Nollywood Et Des Recherches Sur Le Cinéma Africain." Politique Africaine 153, no. 1 (2019), 143–151.
Ayi Kwei Armah, The Eloquence of the Scribes. Popenguine: Per Ankh, 2006.
Walter Benjamin, 'Eduard Fuchs, Collector and Historian' in One-Way Street, London: Verso, 1979
Wọle Ṣoyinka, 'Theater in African Traditional Cultures: Survival Patterns.' In Art, Dialogue and Outrage. Ibadan: New Horn, 1988, 190-203.
---
Biographical Note
Akin Adeṣọkan is a Nigerian novelist, essayist and scholar. He is an Associate Professor of Comparative Literature, and of Cinema and Media Studies at the Media School at Indiana University, Bloomington. His books include Roots in the Sky, a novel, Postcolonial Artists and Global Aesthetics, a critical study, and Celebrating D. O. Fágúnwà: Aspects of African and World Literary History, a co-edited volume (with Adélékè Adéẹ̀kọ́) on the work of Daniel Fágúnwà, the pioneer Yoruba novelist.
---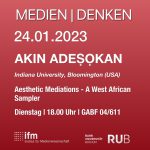 ---