15.12.2015 | RATNA NOVIANI (Yogyakarta)
Screening 'Asian Flavor' – »Asianization« and Articulation of »New« Identity in Indonesian Screen Culture
---
Abstract
Since 2000s onward, the popularity of "Asian"-looking and "Asian flavor" cultural products has been significantly increasing in Indonesian screen culture [especially film, TV, advertising, social media and mobile devices]. The phenomenal interest among young people in Indonesia—and other part of East/Southeast Asia—in Korean TV drama, Japanese music video, and other "Asian flavor" cultural products has indicated the emerging moment of so-called "Asianization of Asia".
Since the latter decade of 20th century, globalization of western popular culture has been accompanied by intra-regional cultural flows within the region of Asia. Within the phenomenon of "Asianization of Asia", the West is ceased to be the only point of reference for production/consumption of popular culture not merely in Indonesia but also in other parts of Asia. This phenomenon is also termed as 'trans-Asia', or 'intra-/inter-Asia'. The main feature of "Asianization" is not the essentialist idea of 'Asian values' or self-conscious project of localism and regionalism. Rather, it involves a significant shift and refashioning of what were previously deemed stereotypically Western cultural attributes. In this sense, Western cultural products remain influential, while at the same time, the act of referencing each other in Asia becomes more prominent. The notion of "Asian flavor" itself does not represent a monolithic entity; rather, it involves a highly hybrid and multi-layered entity. In the context of Indonesia, religious [Islamic, particularly] and local racial issues also play a significant role in the act of articulating "new" identity as being modern and global-oriented Asians.
This lecture will focus on how "Asian Flavor" is articulated and circulated through screen media in Indonesia. It will discuss how the popularity of screen culture particularly television, social media and mobile devices has emboldened a sort of liberty among young people to explore and articulate "new" identity as modern and global-
oriented persons.
---
Biographical Note
Ratna Noviani is lecturer and researcher at the Study Program of Media and Cultural Studies, The Graduate School, Universitas Gadjah Mada, Yogyakarta, Indonesia.
She completed her Bachelor in Communication Studies and Master in Sociology at Universitas Gadjah Mada, Indonesia. In 2009 she finished her Ph.D in Media Studies at Ruhr University of Bochum, Germany. She works in interdisciplinary field focusing on media and politics of representation; media, gender and sexuality; youth culture as well as advertising and consumer culture. She is a member of Editor Board of Indonesian Feminist Journal and also a member of Inter-Asia Cultural Studies Society.
---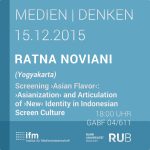 ---